As we exited a (to me delightful) dance event with Damian Woetzel and Lil Buck at the Guggenheim, a man behind us commented, "A lot of that was boring, and some I didn't understand."
His remark made me grin as I puzzled over how he distinguished between what was boring, and what he didn't understand.
And I loved the candor of his comment, especially given the sophisticated venue.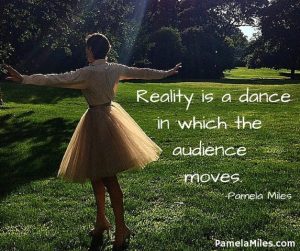 When we don't understand, it's easy to self-consciously retreat rather than risk looking stupid. (When we're bored, we've already stopped looking.)
But the man behind us didn't take the easy way out. He expressed himself.
Maybe it was too late for him to enjoy the performance; he could still intrepidly engage.
And help a stranger see that reality is a dance in which the audience moves.